Listed below are the testimonials forwarded to us by email and letter. These are genuine testimonials provided about our customer service, sales team and booth attendants.
---
Dear Jeff
Happy New Year! Apologies for the delay in contacting you, things have been a little hectic!
We just want to say thank you so much for bringing the magic mirror to our wedding at Rise Hall on 10 December 2016. It was so fantastic! Everyone loved it and commented on how it was different. We have got some absolutely awesome photographs which we will treasure forever. Thank you so much for contributing to making our wedding one to remember!
Best wishes
Rachel & David Craggs

Magic Mirror at Rachel and David's Wedding – 10th Dec 2016
Just thought I would let you know how much everyone enjoyed the photo booth from kids to adults alike.  It made our "Ruby Wedding Anniversary" party a great success.
I would recommend everyone have one at their party, fantastic night had by all.
Thank you Sue & Rob Love
Mr and Mrs Love Ruby Wedding Anniversary 5th Dec 2015
---
Hi Jeff, I just wanted to drop you a quick mail. The booth was a great success and the service was great from start to finish. I would highly recommend you. Kind  Regards Darren
Mr and Mrs Machen's Wedding 6th June 2015
Hi Claire & Jeff, I would like to thank you so much for doing out party on the 2nd November. All our guests loved it! Kind Regards. Suzanne & Michael
Saturday 2nd November 2013 (Wedding)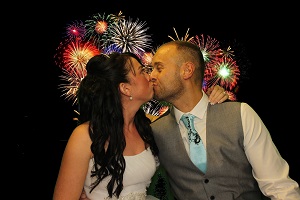 ---
Hi Jeff, We are just back from honeymoon and just wanted to say a massive thank you for coming to our wedding on the 10th August. You were brilliant – we didn't see or hear you set up and everyone had so much fun! thank you so much. Laura and Matty Graham
Sunday 10th August (Wedding)
Hi, Just wanted to say a massive thank you for last night, everyone has such a fun time and the pictures are brilliant. Thanks again for the helping to make our wedding evening reception and memorable one. Ania and Peter Lomax
Saturday 30th August 2014 (Wedding)
---
Hi Jeff will you please pass a massive thank you to your wife and daughter for the booth on Friday night. Katie and all at party loved it and had a fab night. Didn't get a chance to speak to them on fri night cos busy with guests and a bit too popped?? all the dealing with your business were great. Jane Lythgow
Friday 31st October 2014 (21st Birthday)
Thank you Jeff for the most amazing night on Saturday. Despite your flat tyre, you were truly professional and so lovely and a pleasure to have at our wedding. And what a range of props! you definitely made the whole night. Sally and Todd
Saturday 13th September (Wedding)
---
Hi Jeff, Everybody had a great time in the booth on Friday. Can you pass my thanks to your wife and daughter? They were brilliant. Thanks Sarah
Friday 5th December 2014 (Bonmarche Christmas Party)